As 2018 comes to an end, and 2019 fast approaches, it's time to look back at the year in movies and talk about which were the 10 best. Before you get too far along in this post, you'll recognize a few movies missing. Unfortunately, I've yet to see movies like SPIDER-MAN: INTO THE SPIDERVERSE, BUMBLEBEE, CREED 2, and BOHEMIAN RHAPSODY; however, I have seen a good amount of movies this year and can pick a solid 10 that shaped the year in cinema for me.
10. GAME NIGHT
Released: February 23rd, 2018. Directed by: John Francis Daley and Johnathan Goldstein. Starring: Jason Bateman, Rachel McAdams, Kyle Chandler, and Jesse Plemons.
I've got GAME NIGHT on here because it was supremely under-promoted and so I really had no expectations when going to the theater to see it, but it made me laugh more than almost any other movie this year. Bateman and McAdams had great chemistry and you could tell they enjoyed working together. I loved the storyline of being adults who meet up and play games weekly, I feel like that would be a great time as it looks. The movie was filled with turns that really, you couldn't see coming and combined with the comedic relief involved really made the experience enjoyable. Overall, GAME NIGHT was probably one of the more surprising movies of the year, and just as surprisingly, lands the number 1o spot on the list.
9. HALLOWEEN
Released: October 19th, 2018. Directed by: David Gordon Green. Starring: Jamie Lee Curtis, Judy Greer, and Andi Matichak.
HALLOWEEN was a movie that I was very worried about seeing since I'm not a big scary movie guy; however, I sucked it up and went to see this and was so happy that I did because I loved it. It wasn't as scary as I believed it was going to be, but it did have a couple of good jump scares which is perfect for a movie coming out this time of year. I thought Jaime Lee Curtis was amazing in this, every time she was on the screen, she commanded the audience's attention and it was easily some of her best work in my opinion. The twist at the end of her home being a trap for Michael was perfect, and I loved how in that final scene there were so many homages paid to the original HALLOWEEN movie. Like Ryan said on the TOP 10 PODCAST, this movie was very much so for fanboys as it had a lot of callbacks to the original films, and I'm perfectly okay with that. I enjoyed the movie, and the experience it gave me at the theater enough to put it at number 9.
8. MARY POPPINS RETURNS
Released: December 19th, 2018. Directed by: Rob Marshall. Starring: Emily Blunt, Lin Manuel Miranda, Ben Whishaw, Pixie Davies, Nathanael Saleh, and Joel Dawson.
I'll try to keep this as spoiler free as possible, but this movie was amazing. Picking up years after the original MARY POPPINS leaves us, Michael Banks is a struggling adult with 3 kids and not enough money to pay for his home. Emily Blunt as Mary Poppins was absolutely the perfect casting. I loved her. I said before that only Julie Andrews could be the nanny, and that was one of my chief concerns regarding this movie, but good gracious I can't stress how great Blunt is. Lin Manuel Miranda was another very bright spot in the movie. We all knew he was very talented from his days on Hamilton, but after this, I really hopes he lands more roles in major motion films because he is such a talented person. The music is another great part of the movie, as with the first one. The songs matched the scenes perfectly and were very memorable.  But easily the best part of this film was the classic animation used. The vase scene was just a masterpiece, and brought back strong vibes from the original. I teared up a couple of times during the movie just because it felt so much like the original MARY POPPINS and it's very deserving of a spot in the top 10.
7. SOLO: A STAR WARS STORY
Released: May 25th, 2018. Directed by: Ron Howard. Starring: Alden Ehrenreich, Woody Harrelson, Emilia Clarke, and Donald Glover.
This is one of two very controversial movies on this list, but I really enjoyed SOLO. I just wish that there wasn't so much negative energy around the movie because I think that skewed a lot of people's judgement of it. I thought it was a fun time, and yeah, maybe it didn't need to be made, but I'm sure glad it was. Alden Ehrenreich brought his own take to the famed smuggler's character and I thought he did a very good job of not being too intimidated by the role and by how amazing Harrison Ford played it. Emilia Clarke was really great in this as well, but that's expected from the GAME OF THRONES star. The reveal of Darth Maul was insane. I remember the whole theater was like WHAT?! once he popped on screen. I love that they brought him back, and hopefully we'll get some kind of closer to the story between him and Qi'ra. Easily the best part of this movie was Donald Glover as Lando Calrissian. He completely stole the show, from his style to his smile, to the attitude to his expert shot, I loved every second that Glover was on the screen. While a lot of people didn't like SOLO, I thought it was a good time and really think it deserves a spot on the list.
6. READY PLAYER ONE
Released: March 29th, 2018. Directed by: Steven Speilberg. Starring: Tye Sheridan, Olivia Cooke, and Ben Mendelsohn.
Another movie that a lot of people that underachieved as the year went on, but the hype back in March/April around this movie was crazy. I loved it. I thought it was going to be very IP heavy and throw all of these cameos in my face, but it didn't. It showed a perfect amount of properties, while still focusing on the story. I really like Sheridan and thought this was a bit of a coming out party for the young actor. The action in this was phenomenal, and was very much a movie to see in IMAX. I loved seeing all of the older cameos in here too, I can't stress how important it was for them to get right how much they incorporated the cameos and they just knocked it out of the park. I loved how the whole movie was pretty much a video game and it made you feel like you really in the game. Granted, as the year went on, better movies came out, but personally, I really enjoyed READY PLAYER ONE.
5. OCEAN'S EIGHT
Released: June 8th, 2018. Directed by: Gary Ross. Starring: Sandra Bullock, Cate Blanchett, Anne Hathaway, Mindy Kaling, Sarah Paulson, Helena Bonham Carter, Rihanna, Awkafina, and James Corden.
WHAT A MOVIE. I know there was a good amount of people who didn't like this reboot, but I was 100% here for it. The twist with Hathaway at the end was genuinely one of the most shocking moments I've had in a theater all year. I really didn't see it coming. Honestly though, this movie is only this good because the cast. Arguably one of the best cast's ever assembled, each individual member played a pivotal role and each had their own moment to shine on the screen. Blanchett followed a phenomenal 2017 by playing a great role in this flick, Sandra Bullock killed it as the lead character, HBC was hilarious per usual and it was so nice to see her on the screen again, I love Sarah Paulson and as always, she was great, Kaling and Rihanna each were funny and had their great moments, but this catapulted one of my stars of 2018: Awkwafina. She stole the show I felt like, from the moment she was introduced I thought she was perfect. Really, I'm still not sure why people didn't like this movie, I loved it so much.
In a year dominated by comic book movies, it's no surprise the top 4 are all superhero movies.
4. ANT MAN AND THE WASP
Released: July 6th, 2018. Directed by: Peyton Reed. Starring: Paul Rudd, Evangeline Lilly, Michael Douglas, Michael Pena, and Hannah John-Kamen.
This provided such a breathe of fresh air after the events of INFINITY WAR wrecked every MCU fan's heart. I like how this focused a lot on why Ant Man wasn't there in INFINITY WAR, which was a big question for a lot of us. But really, this was Evangeline Lilly earning her MCU stripes. She was amazing as the Wasp and is the perfect partner for Ant Man. Her and Paul Rudd have such incredible chemistry, and Peyton Reed did a great job of focusing in on that chemistry. You really can't say enough good things about Michael Pena and how great of an actor he is. I'm just waiting for the day Marvel announces a Luis movie because he 100% needs one. I loved how this one featured a lot more of the shrinking to growing instead of just shrinking as well. The action was completely on point, like every other Marvel movie. But what separates Ant Man from other MCU movies is the comedy and ANT MAN AND THE WASP hits on that comedy perfectly. The post credits scenes were both crazy as well, featuring what happened to these characters when Thanos snapped. Just like INFINITY WAR, I can't wait for AVENGERS: ENDGAME to get answers.
3. BLACK PANTHER
Released: February 16th, 2018. Directed by: Ryan Coogler. Starring: Chadwick Boseman, Michael B Jordan, Lupita Nyong'o, Winston Duke, Danai Gurira, and Letitia Wright.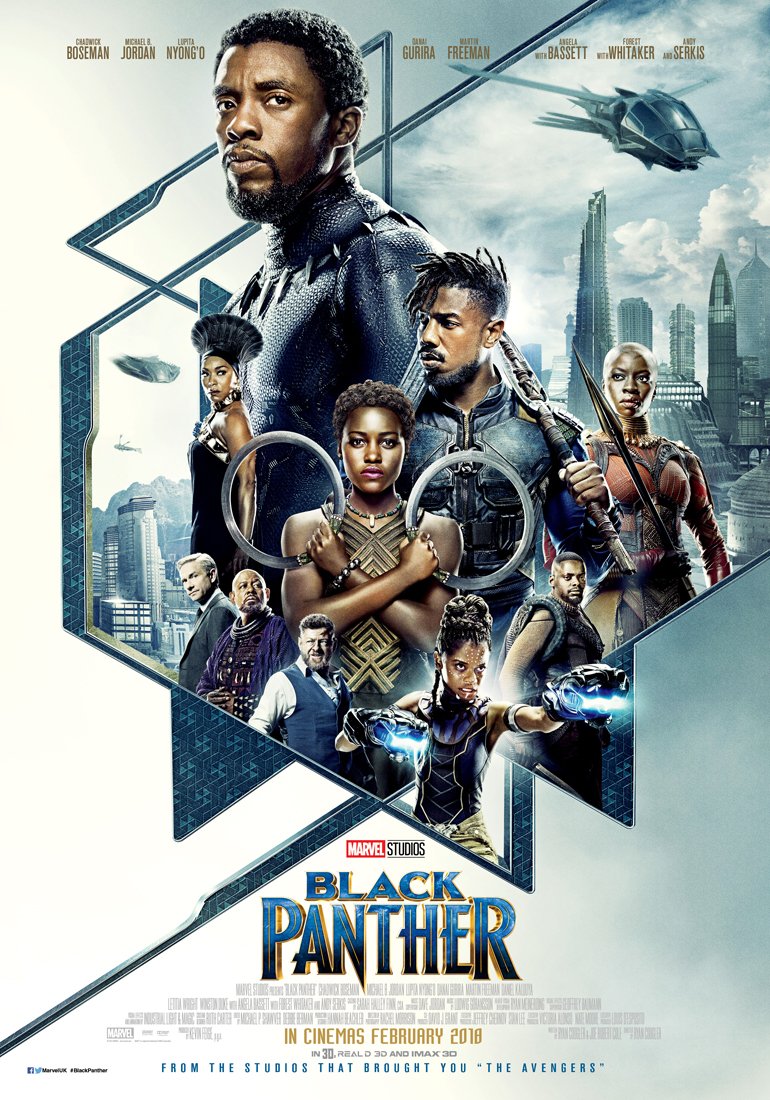 I think a lot of people forget that BLACK PANTHER was released in 2018. As soon as I came out of the theater, I turned to my friend and said that's gonna be one of those movies that changes a lot of things in the world. And it did. It was the number one earning movie of the year, even above INFINITY WAR. Featuring a cast that was majority African-American, the movie was a culture masterpiece, and was important in many more ways than just introducing us to the wonderful nation of Wakanda. The action was great, the soundtrack was great, the cast was perfect, the visuals were beautiful, and honestly, any other year, this would've been number 0ne. I just can't stress how great everyone in this was. Letitia Wright burst onto the scene as Shuri and was instantly a fan favorite. However, my favorite was Winston Duke as M'Baku. I thought he provided excellent comedic relief while commanding the screen at the same time. I thought his character was great as well. Michael B Jordan deserves an Oscar for his work as Killmonger. I thought it rivaled Heath Ledger's Joker, he was that good. I loved it. And of course, Chadwick Boseman seems like he was born to play T'Challa. I loved how Coogler focused more on Wakanda and the other characters instead of T'Challa, since we were already introduced to him in CAPTAIN AMERICA: CIVIL WAR. I loved BLACK PANTHER and really would love to see it win some awards at the Academy Awards.
2. AQUAMAN
Released: December 21st, 2018. Directed by: James Wan. Starring: Jason Momoa, Amber Heard, Patrick Wilson, Willem Dafoe, and Yahya Abdul-Mateen II.
The only DC movie of the year, turned out to be the best DC movie since THE DARK KNIGHT in my opinion. I loved it so much. It was fun, it was beautiful, it was different, it was action packed but still funny, it was just the most fun I had at the movies all year. Jason Momoa is clearly the Robert Downey Jr of the DCEU. He was born to play Arthur Curry. I loved every aspect that he brought to the movie from his comedic relief to his badass action, he absolutely killed it. Patrick Wilson was a way better villain than I anticipated him being and I loved every scene he was in, he was great. The only gripe I have with the movie is I felt like they didn't give enough of Black Manta for how much he was in the trailers, but they did leave his story open for Aquaman 2 whenever it comes out. I really felt like they raised the bar even higher for visual effects with Atlantis than Marvel did with Wakanda in BLACK PANTHER. The movie was just so great, easily the best DCEU movie to come out, and the 2nd best movie of the year for me.
1. Avengers: Infinity War
Released: April 27th, 2018. Directed by: Joe and Anthony Russo. Starring: Robert Downey Jr, Chris Evans, Chris Hemsworth, Josh Brolin, Tom Holland, Chris Pratt, Zoe Saldana, Scarlett Johansson, Mark Ruffalo, Don Cheadle, Benedict Cumberbatch, Chadwick Boseman, Elizabeth Olsen, Paul Bettany, Anthony Mackie, Sebastian Stan, Dave Bautista, Bradley Cooper, Karen Gillian and Tom Hiddleston.
We waited 10 years and 18 movies for this movie. There was storybuilding unlike we had ever seen leading up to this. This was it. Thanos was finally coming for the Infinity Stones. It had more hype than any other movie in the history of the world (the trailer smashed records). And it 100% lived up to the hype. Seeing the Guardians meet Thor and team up with the likes of Iron Man, Dr Strange, and Spiderman was crazy. Having Black Panther and Captain America fight side by side, while Okoye and Black Widow kicked butt together was just everything this Marvel fan ever wanted. Everyone remembers where they were when Spiderman started to disappear, it was easily the saddest moment of the year at the movies. I was very impressed with the Russo brothers for having the guts to do the snap, as everyone was wondering if they were actually going to do it. But once it happened, it was just heartbreaking for fans, but cinematic gold. Seeing the likes of these characters that we had grown to love just disappear to ash from Bucky to T'Challa to Star Lord, Drax, and Mantis to Dr Strange to Falcon to Scarlet Witch it was all just so sad. Even the post credits scene was heartbreaking, yet hopeful as we got a confirmation that Captain Marvel was indeed coming. Even to the very end when it normally says "The Avengers will return", instead it said "Thanos will return". Little things like that are what separates this movie from anything else we've ever seen. INFINITY WAR was just perfect in every single aspect, and I can't wait for ENDGAME. It was emotional, it was entertaining, it was action packed, it was funny, but most of all, it was the best movie of the year.
A few of my favorite things include my pet dragon (Drogon), Game of Thrones, Disney movies and theme parks, the MCU, DC movies, Star Wars, sports, and my rather large Funko Pop collection. Daenerys Targaryen is my queen, Robert Downey Jr is my man crush, and Simba is my spirit animal.